Feeding your great dane healthy dog food is essential for their overall health and wellbeing. Great Danes are a large breed of dog that require more energy than smaller breeds, so they need a diet with high-quality ingredients to support their needs.
Healthy dog food helps ensure that your great dane gets all the necessary nutrients, vitamins, and minerals in order to stay strong and active. Healthy dog food also contains fewer fillers which can be difficult for a great dane's digestive system to process.
By feeding them healthy dog food you can help keep them at an ideal weight, reduce the risk of obesity related diseases like diabetes, and improve their overall health.
Here are the Top 5 Best Dry Dog Foods For Great Danes for 2023:
Taste of the Wild Dry Dog Food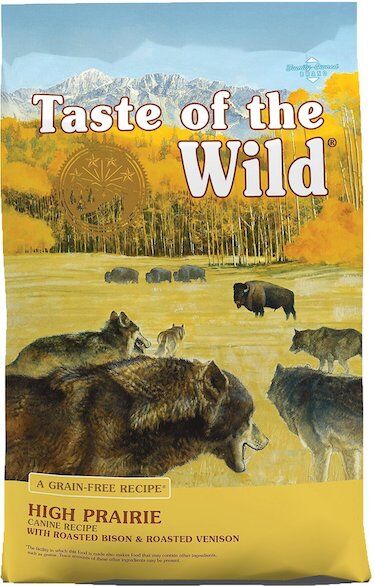 As the name implies, the taste is designed to emulate the type of food your dog will consume assuming it is in the wild. This less cost, the high quality food product is composed of real vegetables and meats. To increase the pleasure from eating this food, it comes in different flavors and contains a high amount of fiber.
Wheat, soy, corn and other harmful additives are absent in this food. This food increases the immune system expectancy due to its high antioxidants. Also, it is composed of essential omega acids for a shiny, sleek coat and improves the health of the joints.
Blue Buffalo Grain-Free Recipe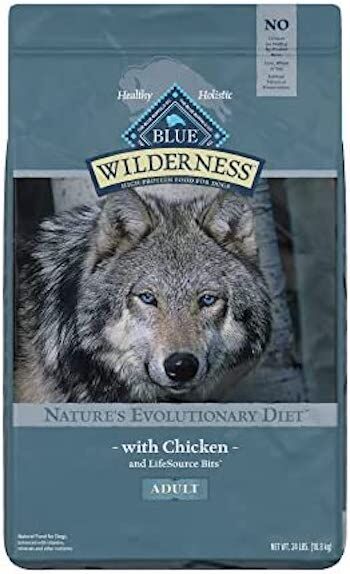 Made for a wide variety of breeds, this high-quality food is ideal and highly nutritional for Great Danes because it contains a makeup of 12% fat and 22% protein. The food composition is made up of essential omega-6 and omega-3 fatty acids and also chondroitin and glucosamine to assist in extending the longevity in joints of Great Danes.
It also comprises of an amino acid known as taurine, which is significant in sustaining the health of the heart. The kibbles are designed to assist in controlling the tartar. This food contains minerals, vitamins, and antioxidants to improve the dog's life expectancy.
Fillers such as soy, wheat, and corn are not contained in it; it is free from common canine allergens like chicken and it is gluten-free.
Nature's Variety Instinct Limited Ingredient Diet Grain-Free Dry Dog Food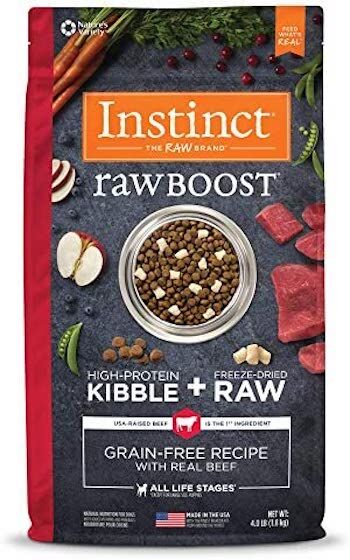 This brand of dog food pride itself for using the most basic ingredients to compose the possible nutritious food. This food is free from usual allergens like chicken and it contains no gluten.
The composition is ideal for a pet with a delicate stomach because it is composed of ingredients that can be easily digested by dogs. This food is also recommended for dogs with allergies or food sensitivities.
This food contains extracts from green tea to enhance health and also improve taste and aroma for your dog. It also improves the health of joints and promotes healthy coat because of the essential omega fatty acids contained in it.
Wellness Complete Health Large Breed Deboned Chicken & Brown Rice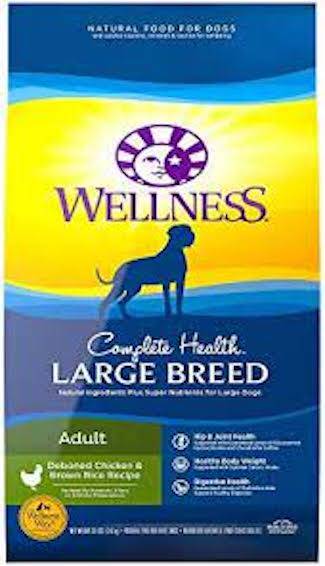 This food provides essential ingredients that are highly recommended for Great Danes. They prevent your dog from gaining too much weight because it contains as low as 11% fats, and 25% protein from salmon and chicken.
The carb is composed of the right constituents obtained from essential barley, brown rice, and digestible whole grains. Your Great Danes can reduce few pounds by consuming this food because it contains moderate carbohydrate and low-fat content.
This is an ideal choice for Great Danes that suffer from heart problems because of it has no
added salt, and it has a proper amount of omega-3s from salmon and flaxseed. Additionally, if your Great Danes is suffering from joint problems, this food is recommended because it is composed of chondroitin and a good amount of glucosamine. It also contains a right proportion of vegetables and fruit making it a good source of antioxidants which prevents illnesses like cancer and boost the immune system.
Earthborn Holistic Large Breed Dog Food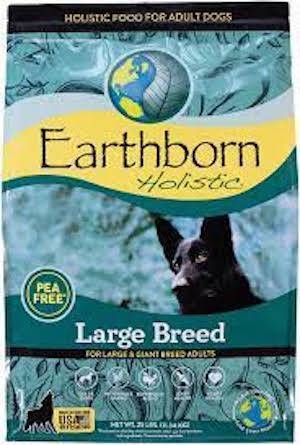 Earthborn Holistic dog food is grain and is free of additives and gluten. This food contains a bit higher than the ideal amount of fat and protein but comprises of healthy and lean fish-based products of carbohydrates and so it is highly recommended for Great Danes.
This food is specially designed to maintain a healthy weight because it is composed of antioxidants like cranberries and blueberries. It also improves the development of healthy and lean muscles.
This Earthborn Holistic dog food comprises of taurine to aid the long-term health of the heart. It is also composed of essential substances like omega-3 and omega-6 fatty acids which are vital for joint support as well as healthy coat.