Feeding a French Bulldog healthy dog food is essential for their well-being and longevity. A high quality diet will provide them with the necessary nutrients to maintain optimal health, as well as helping to prevent certain diseases.
High quality food also helps your pup stay active and alert, so they can enjoy life's adventures with you. The right nutrition can also help keep their skin healthy and coat looking great!
Plus, good nutrition is important when it comes to preventing obesity in dogs – something that French Bulldogs are prone to due to their small size. Feeding your pup a balanced diet of nutritious foods will ensure they get all the vitamins and minerals they need. Choosing the right dog food will help avoid unhealthy ingredients like preservatives or fillers.
Here are the Top 5 Best Dry Dog Food Brands for French Bulldogs.
Wellness Complete Health Grain-Free Dog Food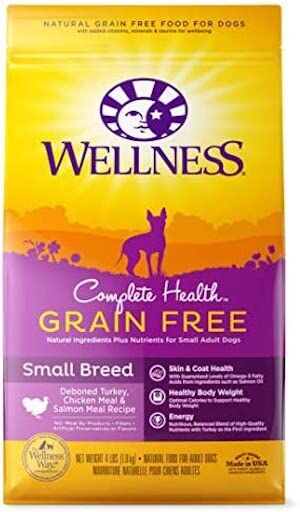 Wellness products are highly rated for their quality ingredients and minimal processing. It is available in several different flavors. The sensitive stomachs of your French bulldog can rest easy knowing that there's no wheat, corn, or soy in this product. It does contain Omega 3 fatty acids that'll make your dog's coat shine.
For added nutrition, there are different kinds of fruits and vegetables – such as carrots, apples, blueberries, and tomatoes – added to this product. Any Wellness dog breed food will be an excellent choice for your French bulldog.
Blue Buffalo Life Protection Formula Dry Dog Food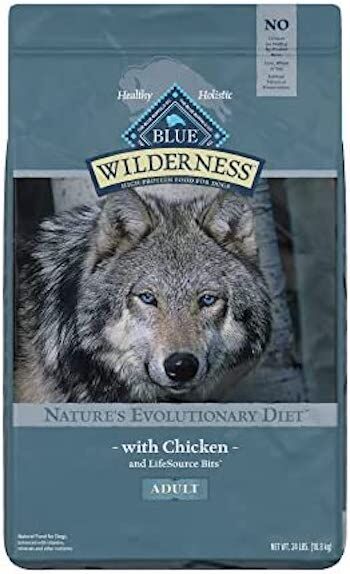 Another highly rated pet food brand is the Blue Buffalo small breed formula. It is also available in several flavors like brown rice and chicken. Blue Buffalo formulas are an excellent pet food choice for your French bulldog because of the high-quality meat and the whole grains used as first ingredients.
A unique ingredient in the Blue Buffalo formula is the Life Source Bits. The Life Source Bits contain anti-oxidants which are very beneficial to your Frenchie.
Nutro Ultra Adult Breed Dog Food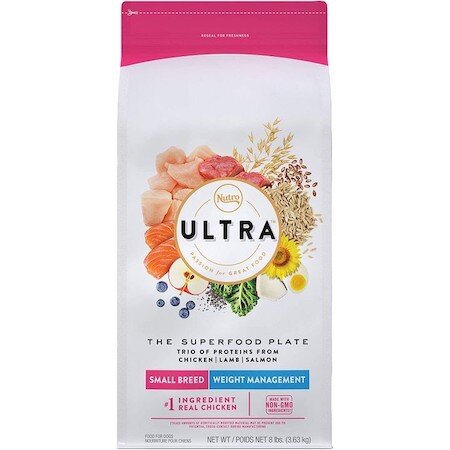 Nutro is a much-respected dog food brand with several formulas that can satisfy the needs of any French bulldog. Their standard dog food consists of three healthy animal proteins: lamb, salmon, and chicken, together with whole grain brown rice. The formula also includes a good number of anti-oxidants like taurine for hearing and eyesight.
Nutro foods stand out from other dog foods thanks to their inclusion of their "superfoods." These superfoods include vine tomato, spinach, kale, coconut, sunflower oil, apple, whole flaxseed, carrot, egg, whole chia seed, and pumpkin. The superfoods help with multiple parts of the body such as the eyes, brain, skin and the immune system.
Castor and Pollux Organix Grain-Free Dog Food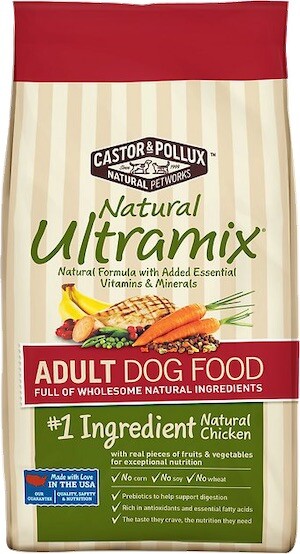 Although Castor and Pollux are not as famous as other brands on this list, they deserve mention because of their organic ingredients and their grain-free formula. Not every dog needs a grain-free recipe, but some French Bulldog owners may want to feed their Frenchie this heavy protein meal.
Some of the organic ingredients in this recipe include tapioca, peas, coconut oil, alfalfa meal, pea protein, sunflower meal, and potato. The formula, like every other formula on this list, is free from wheat, soy, corn, and also GMOs.
Halo Spot's Stew Chicken Recipe Dog Food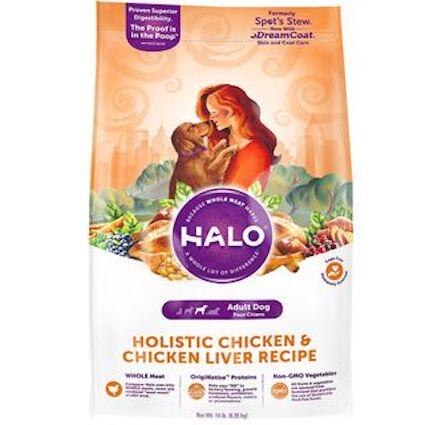 Halo has a wide variety of dog food formulas that are guaranteed to make any dog owner happy. Their chicken recipe formula uses eggs and chickens as the first ingredients, followed by barley and oats.
These unprocessed and healthy grains and proteins are accompanied by other wholesome ingredients like salmon, chicken liver, peas, and flaxseed. It also includes a broad variety of fruits and veggies to provide your doggie with the proper amount of vitamins and minerals