Finding the right dry dog food brand for your pup is one the most important decisions you can make as a dog owner. There's hundreds of brands currently available online, and they all claim to be the very best for your dog.
Commercial brands sell billions of dollars of dog food each year based on low prices and questionable marketing technique. Commercial brands cut costs and beat out their competitors by introducing corn, wheat, rice as well as artificial vitamins and minerals to pass standards set by AAFCO.
So what is the worst rated dog food brands? We have compiled a list of some of the worst based on ingredient list, guaranteed analysis and owner reviews.



Purina Dog Chow Complete Adult Dry Dog Food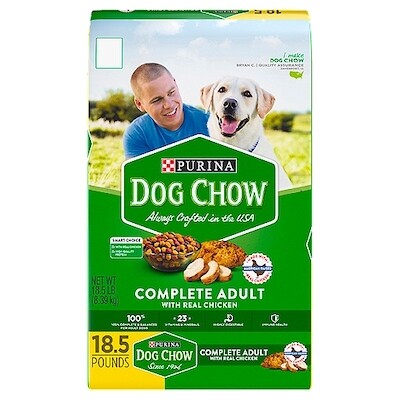 When it comes to choosing the right food for your dog, there are a lot of options out there. But one brand that is often overlooked is Purina Dog Chow. Unfortunately, this popular dog food isn't as good as its reputation suggests and can actually be bad for your pet in several ways.
One of the main problems with Purina Dog Chow is that it contains a lot of fillers and by-products. Fillers are ingredients like corn and wheat gluten which don't provide any nutritional value but simply make up the bulk of the product so that it looks more appealing on store shelves.
By-products are things like feathers or animal fats which may not be directly harmful to dogs but also don't offer much benefit either. As such, these types of ingredients should be avoided when possible in order to ensure your pup gets all the nutrients they need from their diet.