Feeding a pug healthy dog food is essential to their health and well-being. Pugs are prone to obesity, so it's important to make sure they're getting the right amount of calories in their diet.
High quality, nutritionally balanced dog foods give them all the vitamins and minerals they need for optimal health. Healthy fats like omega-3 fatty acids help keep their coats shiny and skin healthy, while protein helps build strong muscles and bones.
Feeding your pug high quality dog food also ensures that they get enough fiber for proper digestion, as well as antioxidants which can protect them from diseases like cancer. All these benefits combined make feeding a pug healthy dog food essential for keeping them happy and healthy!
Here are the Top 5 Best Dog Food Brands for Pugs for 2023:
Orijen Dry Dog Food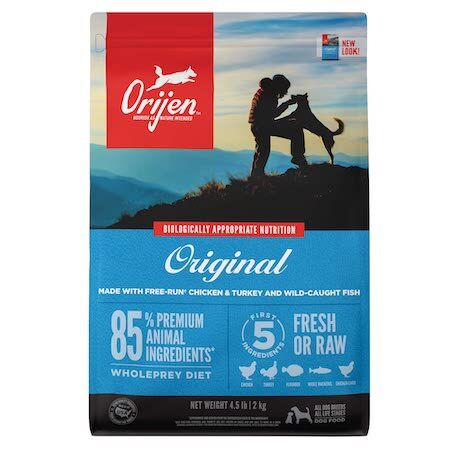 This brand has been voted Dog Food of the Year three straight times. Of course, the achievement is not a fluke. It is mainly because the brand focuses on organically produced natural dog food.
Their adult food is made of 20 percent vegetables and fruits and 80 percent meat ingredients. This combination gives dogs all the protein and other nutrients that they need. Another reason Orijen is on this list is its being grain-free. So, it won't lead to any allergy issues for your dog.
Some of the ingredients in their adult dog food are spinach, apples, carrots, pumpkin, green peas, mackerel, whole eggs, turkey, and fresh chicken. This combination has everything your pug or any other breed needs for healthy growth.
Virtually all blends of Orijen contain Omega 3 & 6 fatty acids for healthy skin and coat. They also contain chondroitin and glucosamine for healthy joints. A lot of pet owners have had to switch to Orijen because of digestive problems, skin issues, or allergies and to their relief, the problems ceased.
Wellness Turkey and Chicken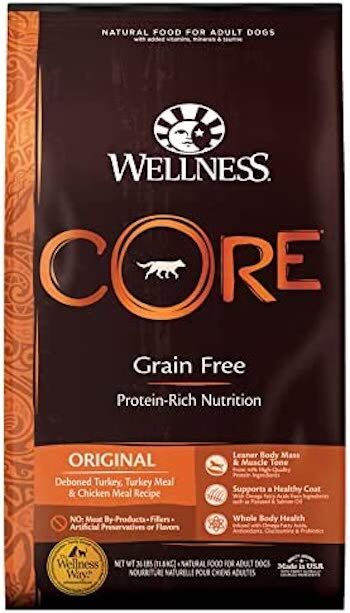 This brand is also known for offering grain-free dog foods. The ingredients in their foods offer a balanced nutrition. The typical recipe of their food includes veggies like sweet potatoes, broccoli, blueberries and it also contains chicken and turkey as a source of protein. In addition, their food also has a couple of fruits.
Most importantly, Wellness CORE contains essential minerals and vitamins for your pugs. They collectively strengthen the immune system of your dog and they protect his teeth and gums. Dog owners prefer Wellness CORE because its blends will not expose your dog to obesity. In spite of the great qualities of this brand, it is its being grain-free that brought it to this list.
AvoDerm Small Breed Dog Food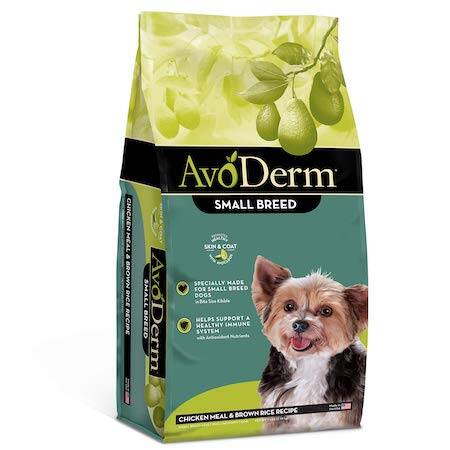 This brand produces brown rice and chicken meal formulas for small breed adult dogs. However, you need to understand that the formula is recommended for pugs under 20lbs in weight. Each blend contains enough protein. Some of the formulas are brown rice, oatmeal, and chicken meal. One major ingredient in its sauce is avocado. This does not only protect pug's coat and skin, it also enhances healthy development.
Affordability is one of the reasons for recommending this brand. It is a very good option for owners that want high-quality formula at a relatively lower price. It is also a good choice for pugs because it is free from soy, wheat, corn, and artificial additives so it can't trigger any allergy issues and skin conditions.
Earthborn Holistic Small Breed Formula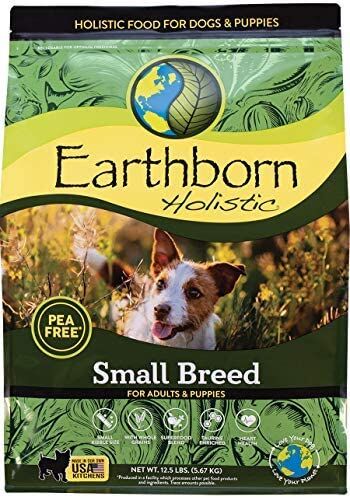 This is another great choice for your pug. Its primary source of protein is chicken while its primary source of carbohydrate is oat. Like others on this list, the formula provides all the necessary nutrients for your pug.
A typical Earthborn meal contains vegetables, fruits, and rye. Some of the meals are oatmeal, barley, rice, and whitefish meal. L-carnitine is one of the nutrients in the food. Its major function is to support lean mass of muscle. All Earthborn meals also contain Omega 3 and 6 fatty acids for perfect skin and coat condition. Most importantly, this formula also offers grain-free meals for your pug.
Royal Canin Pug Formula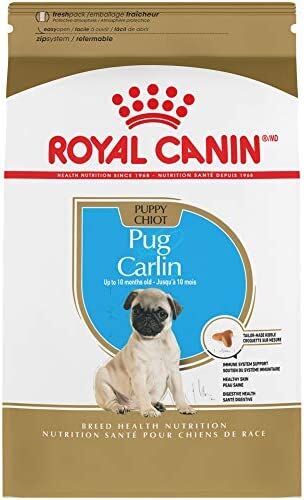 This brand is known for its quality ingredients. Although the formula contains soy, corn, and gluten, it is still a good choice for you pug. It also contains a lot of protein, probiotics, fish oils, and several natural additives. Fish oils and probiotics help to protect the digestive system of your pug.
This formula also contains natural extracts and some important trace elements. Another reason for recommending this brand is affordability. It is more affordable than all the other brands on this list. Its only downsize is the presence of gluten in its ingredients. This can trigger allergy issues. However, it does not trigger any health conditions for a lot of pugs.