Are you looking for the best dry dog food? Searching online, you may find there are hundreds of different brands of dry dog food, and they all claim to be the very best for your dog. Trying to sort through all the different dry dog food brands from commercial to exotic can become quite the task. Dogs require a wide range of nutrients in different quantities over the course of their lifetime.
The best dry dog food simple depends on your dog's dietary needs. It's important to read the label and understand what you actually are feeding your dog. Many of the low-grade dog foods will be filled with fillers and unknown meat sources.
On the other hand, premium dog food will be loaded with a healthy balance of real meat sources, fruits and vegetables. We have reviewed some of the best dry dog food brands money can buy.
Here are the 2023 best dry dog food brands.
Taste of the Wild® High Prairie Grain-Free Dry Dog Food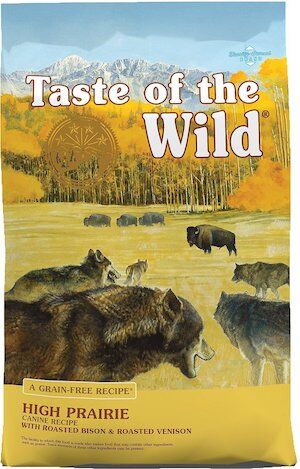 Taste of the Wild High Prairie Dog Food is a premium quality, grain-free dog food that provides your pet with optimal nutrition for all life stages. This formula contains an assortment of proteins from real roasted meats including venison, bison and beef to give your pup the taste he craves.
It also features fruits and vegetables that provide natural antioxidants to help support a healthy immune system. Plus, it's fortified with essential vitamins and minerals to ensure complete and balanced nutrition. With Taste of the Wild High Prairie Dog Food, you can feel confident knowing you are feeding your furry friend one of the best dog foods on the market today!



Taste of The Wild High Prairie is packed with all-natural ingredients like sweet potatoes, peas, potatoes, canola oil plus other nutrients such as chelated minerals which aid in digestion and absorption of key vitamins & minerals.
Furthermore this formula includes omega fatty acids (3&6) plus probiotics which helps promote digestive health while providing a powerful boost to immunity levels thanks to its blend of antioxidant-rich fruit & veggies like raspberries blueberries tomatoes apples etc…