When it comes to finding the best food for a poodle, there are many factors that should be taken into account. It is important to consider the dog's age, activity level and any specific dietary needs they may have.
For example, puppies require different nutrients than adult dogs and should be given an appropriate puppy food. Poodles are active dogs with unique dietary requirements, so they need food that provides them with all the necessary nutrients in the right amounts.
Here are the Top 5 Best Dry Dog Foods for Poodles for 2023:
Hill's Science Diet Active Longevity Chicken Meal
This dry dog food produced from quality ingredients is an excellent option for your canine friend. It contains 58% carbohydrates, 15% fats, and 20% protein. It is an ideal food for active poodles. Its above average carbohydrates and almost standard fat content provides the energy needed by your lively furry pet.
However, the amount of protein contained in the food is below average. Also, it contains more plant-based protein such as peas and less meat. Since poodles are carnivores, the low meat content can discourage some of them from consuming the food.
Eukanuba Adult Dry Dog Food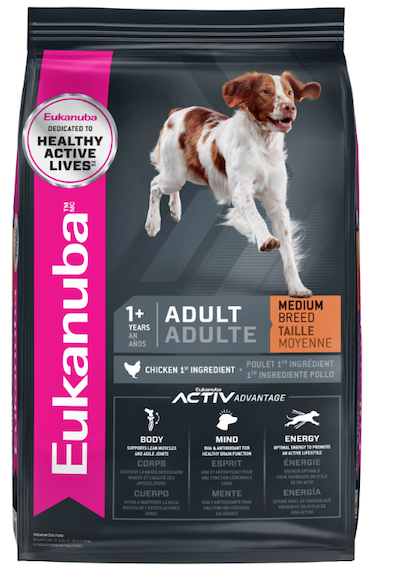 It is an excellent kibble for standard poodles. With 46% carbohydrate, 16% fat, and 28% protein; it contains an adequate amount of macronutrients required by poodles. Besides, it moderate quantity of meat is a plus. Though it includes chicken, lamb is the primary protein source.
The formula has Omega fatty acids which can make a dog's fur brilliant. Its fiber content facilitates digestion and nutrient absorption. Besides, the chondroitin and glucosamine from natural sources keeps your dog's bones and joints healthy. This canine's recipe is nutritious and has many health benefits for poodles.
Royal Canin Breed Health Nutrition Poodle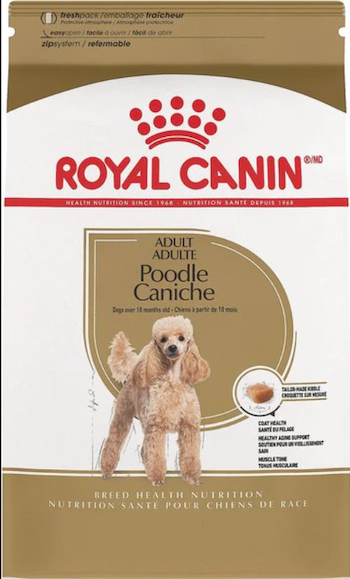 This dog food is also an excellent choice for standard poodles. It contains average proportion of macronutrients: 55% carbohydrates, 11% fat, and 26% protein. Its moderate meat content is ideal for poodles. Protein promotes healthy muscle development in dogs.
The recipe contains vitamins which enhance the health of your furry friend and helps strong teeth. It contains fish oil which makes your pet's coat and skin soft. Besides, it aids the development of the minds of dogs at a young age. This kibble with quality and nutritious ingredients is specially formulated for poodles.
Nature's Variety Raw Boost Grain-Free Recipe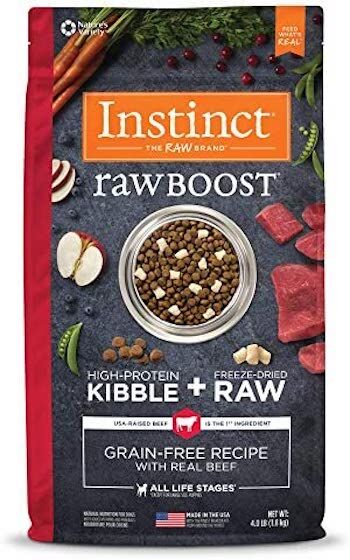 This kibble formula contains high-quality ingredients. Its high fat and protein contents make it an ideal choice for standard poodles. It includes more meat than plant-based protein. The blend of raw flesh and grain-free ingredients will give your dog a taste of a wild diet.
The chicken is freeze-dried to make it tasty. It also contains legumes and alfalfa as sources of plant protein. This nutritious recipe is an excellent food for poodles. This quality diet will also be an ideal option for your standard poodle, but it may result in gas bloat.
Orijen 6 Fish Grain-Free Formula For Dry Dog Food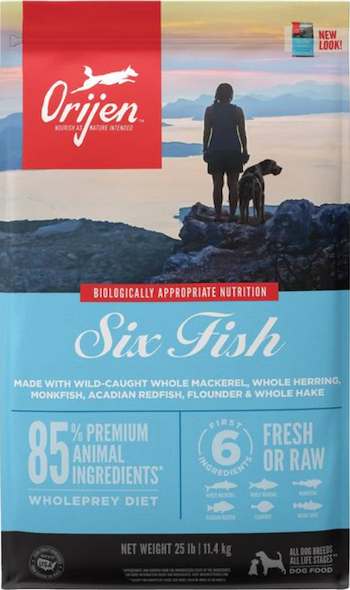 This dog recipe produced from six different types of fish doesn't contain chemicals. Instead, mixed Tocopherols serves as the preservative for the mixture of herring, flounder, mackerel, silver hake, and monk. A proportion of greens such as spinach and mustard provide fiber which facilitates food digestion.
They are also sources of vitamins and minerals. This dog formula is ideal for smaller poodles due to its high protein content. It can promote development in the younger animals. Its low carbohydrate ratio also makes it an excellent choice for older breeds.
These of foods contain wholesome ingredients. However, it is advisable to consult a veterinarian on the right ratio of macronutrients for your dogs.